Happy Monday!
First things first: I promised I'd announce a Giveaway winner today and I'm happy to say that:
ANNIE is the lucky winner of a Serene Shower Mist from C & Co Naturals.
Congratulations, Annie! Please shoot me an email at rebecca@roseyrebecca.com with your information so we can get your prize to you.
Don't forget that even if you didn't win, there's is a still a 10% coupon code you can use in the shop or on C & Co's website until the end of the month! Just mention/enter promo code HEALTHYLIVING at checkout.
So, it's no secret that I like food…A LOT. I mean, have you met me? I know I can't be the only one though, so I thought it would be fun to list some surefire ways to tell if you are, in fact, a foodie. If I missed any, be sure to let me know in the comments.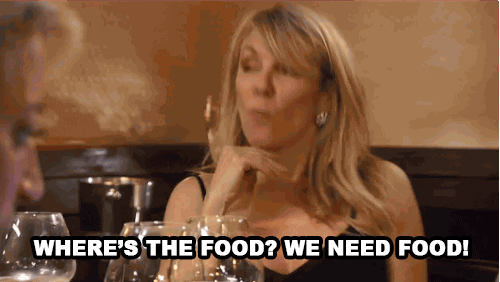 You might be a foodie if…
It's 6 a.m. and you're already thinking about what you're going to have for dinner.
You have stacks and stacks of cookbooks that you read cover to cover like novels.
Your friends randomly send you pictures of what they're eating.
You read restaurant menus for fun, even if you have no plans of going.
You take pictures of other people's food from the next table over. (Yes. I did that. No, I'm not ashamed.)
You've seriously considered enrolling in a culinary program, but not to work in the field, just to learn the tricks.
You are your friends' go-to person for restaurant recommendations.
You plan vacations around food.
You interrupt your friends' stories about their day to ask where they ate.
Your loved ones know not to let you get hangry.
You watch cooking shows religiously…even while you're working out at the gym (yes, I do this).
You actually like going to the grocery store and spend an obnoxiously long time there.
You idolize celebrity chefs, rather than Hollywood celebrities.
You have multiple Pinterest boards dedicated to food.
You not only remember what you've ordered at restaurants in the past, you remember what your loved ones have ordered too.
You write a blog with the tagline: "Healthy Living In A World Full of Food" 😉
What did I miss? Tell me in the comments! Happy Eating!
Have a wonderful day! <3