I truly believe everyone should be able to experience therapy. Sadly, there are several barriers that prevent people from receiving the mental health support they need and deserve. In addition to the stigma that surrounds seeking help, many people cannot afford and/or do not have access to counseling in their area.
I've compiled 10 resources to help find accessible and affordable therapy. They range from clinic and helpline directories to online support group and Telehealth providers.
Please share this post with anyone you think might benefit.
As always, thank you for reading!
♥︎♥︎♥︎
10 Resources For Accessible And Affordable Therapy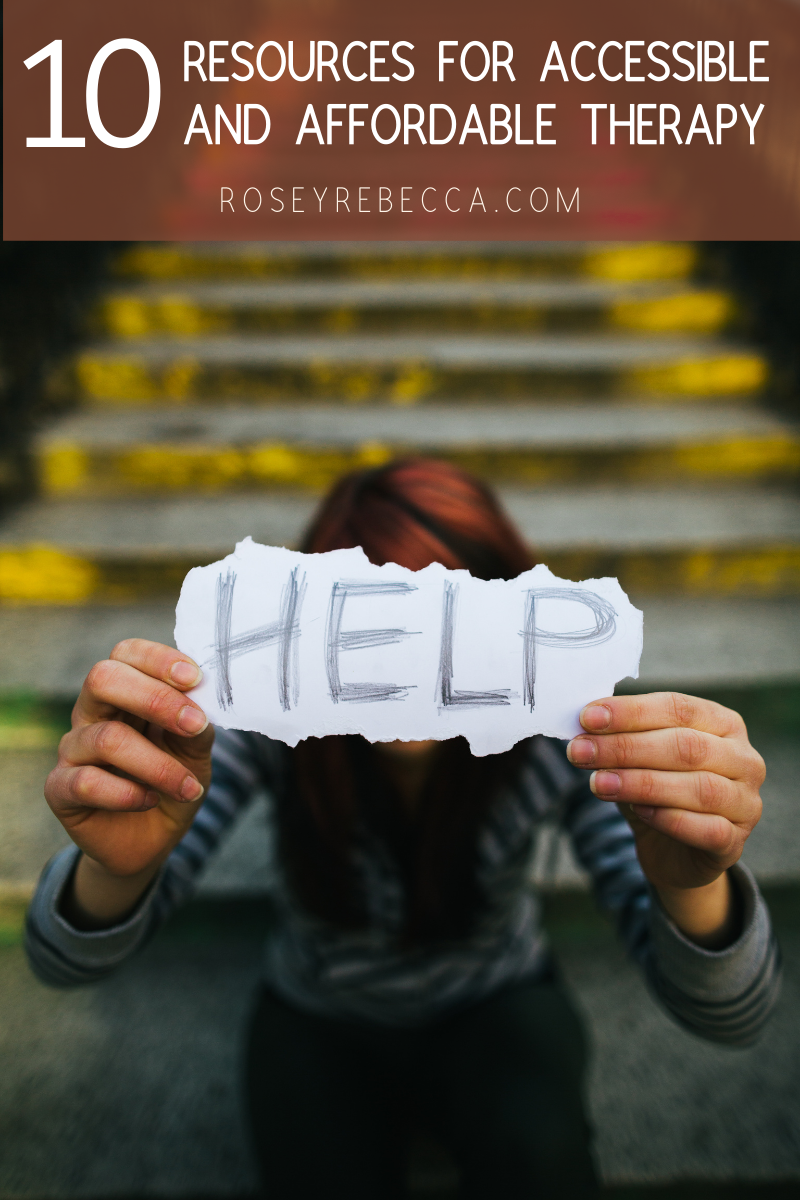 1) Open Path Psychotherapy Collective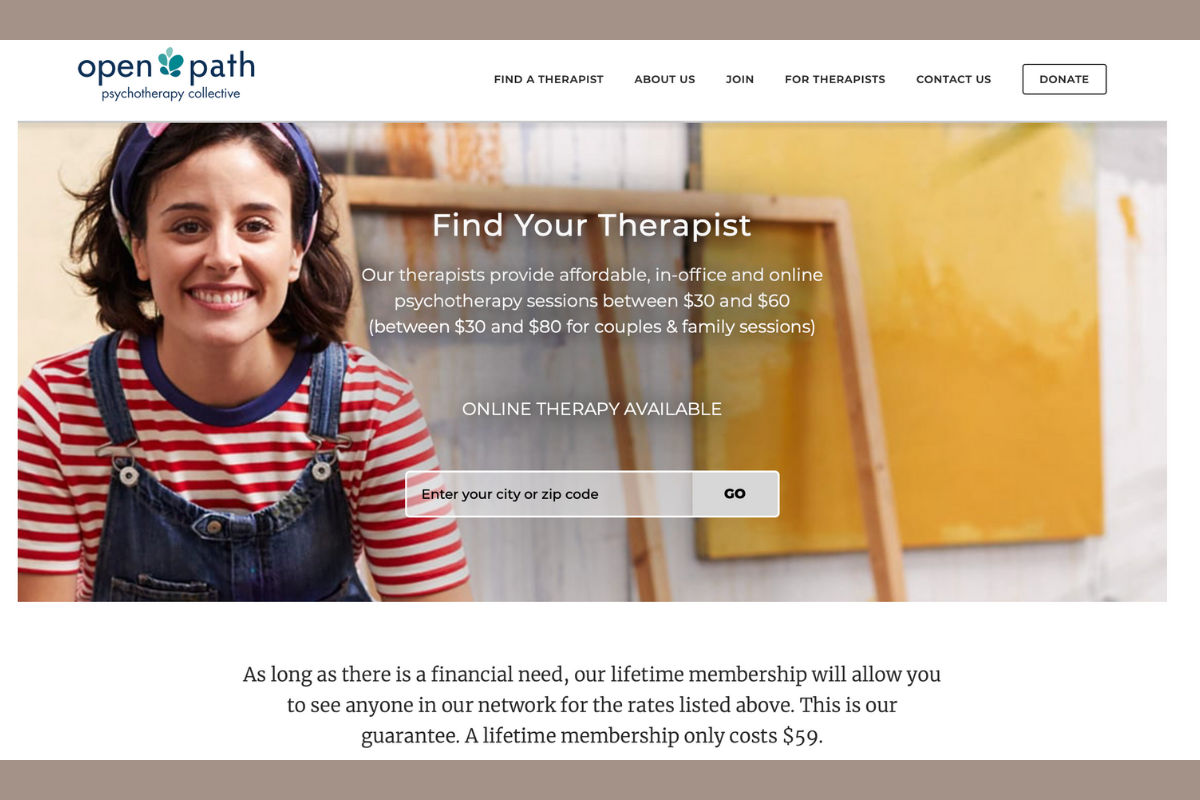 From Open Path's website:
Open Path is intended for people who either lack health insurance or are underinsured, and cannot otherwise afford to work with a therapist.
By underinsured, we are referring to people who have health insurance that does not include affordable in-network mental health benefits. This could be due to a high deductible and/or a copay higher than $60 per session for individual therapy (or higher than $80 per session for couples or family therapy). Learn more.
If you have health insurance, we ask that you call your insurance company to verify your mental health benefits before you use Open Path's service. For a list of questions you can ask your insurance company to verify your benefits, click here.
If you can afford full-fee psychotherapy sessions, we ask that you do not use Open Path's service. If you have questions regarding whether Open Path is right for you, please contact us at info@openpathcollective.org.
2) Open Counseling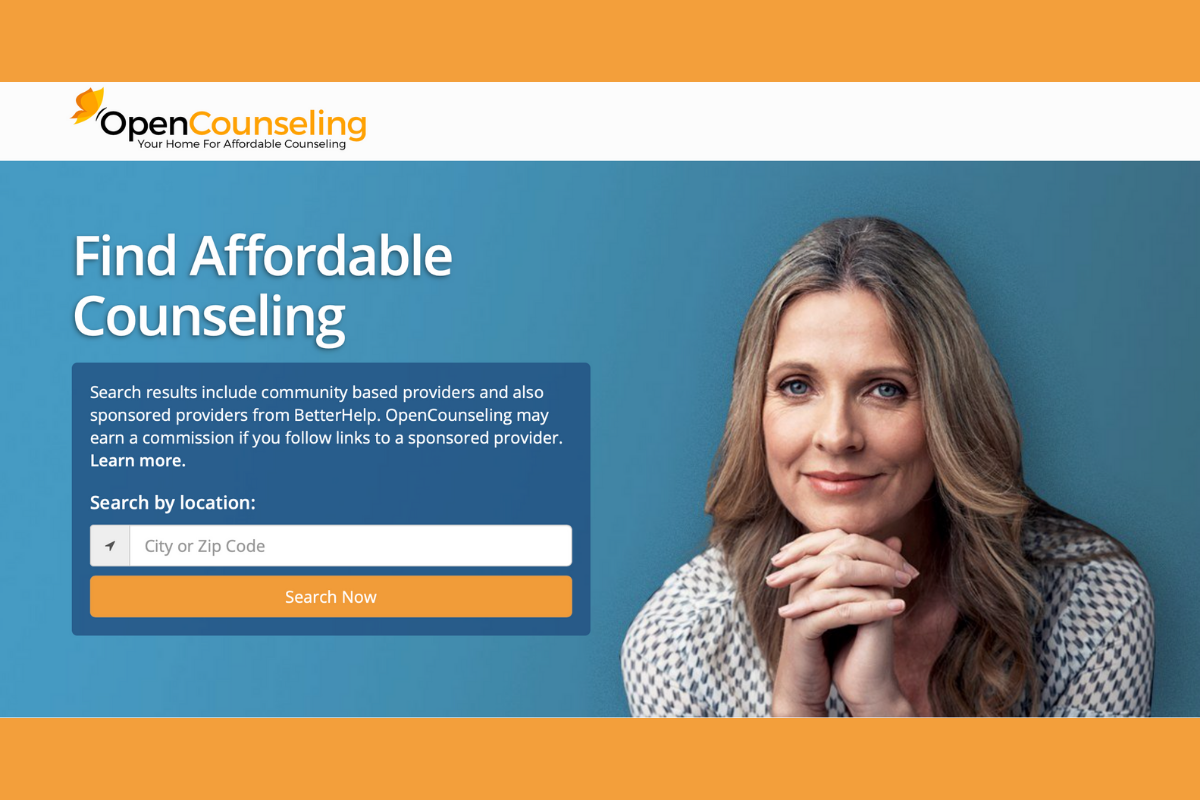 From Open Counseling's website:
Fewer than half the people struggling with mental health receive the services they need. OpenCounseling is transforming mental health by giving people the information they need to find affordable treatment where they live.
At OpenCounseling, we believe that financial and geographic barriers keep far too many people from getting the care they need. People who are already feeling vulnerable are often discouraged when they try to get help but can't find a local therapist who accepts their insurance plan or offers affordable rates. This can turn people away from therapy when they need it the most.
It doesn't have to be this way. While we believe America needs to invest more in mental health care, we know many affordable options already exist that are unfortunately hidden from view. The internet can be an amazing tool for building community and sharing information, but it hasn't been used to its full potential to serve the public good. We believe information about these options should be more widely available and that it shouldn't be hard to find for the people who need it most. We want to make it easier for people to find and use local mental health resources.
3) Low Fee Clinics
A number of the American Psychoanalytic Association's approved training institutes, centers and/or affiliate societies offer low-cost clinics and referrals with reduced fee options for individuals with limited financial means.
Psychoanalysts in training - physicians, psychologists, or social workers who are already experienced therapists - will often adjust their fees to the financial needs of the patient. In addition, because of their commitment to analysis and to community service, many graduate analysts also make an effort to treat patients at reduced rates. Contact the organization closest to you and request information regarding their referral services.
4) NeedyMeds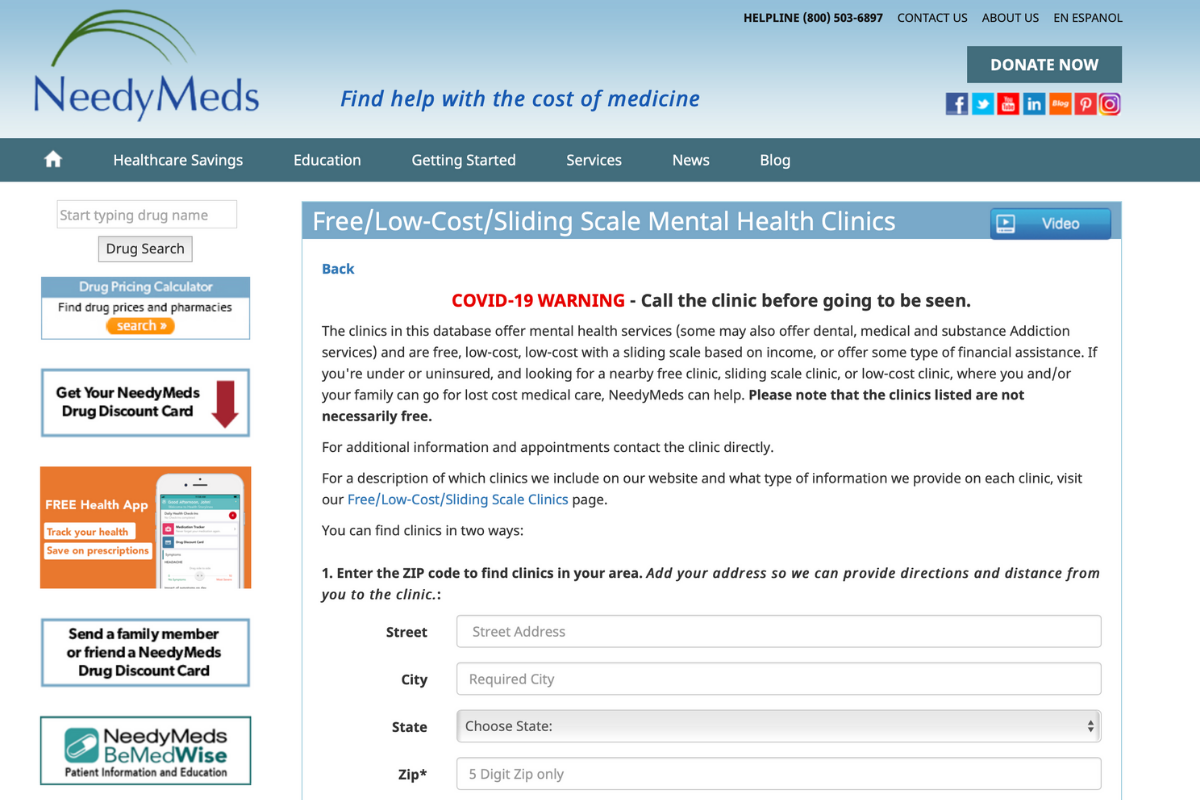 Free/Low-Cost/Sliding Scale Mental Health Clinics Search Tool
The clinics in this database offer mental health services (some may also offer dental, medical and substance Addiction services) and are free, low-cost, low-cost with a sliding scale based on income, or offer some type of financial assistance. If you're under or uninsured, and looking for a nearby free clinic, sliding scale clinic, or low-cost clinic, where you and/or your family can go for lost cost medical care, NeedyMeds can help. Please note that the clinics listed are not necessarily free.
5) 7 Cups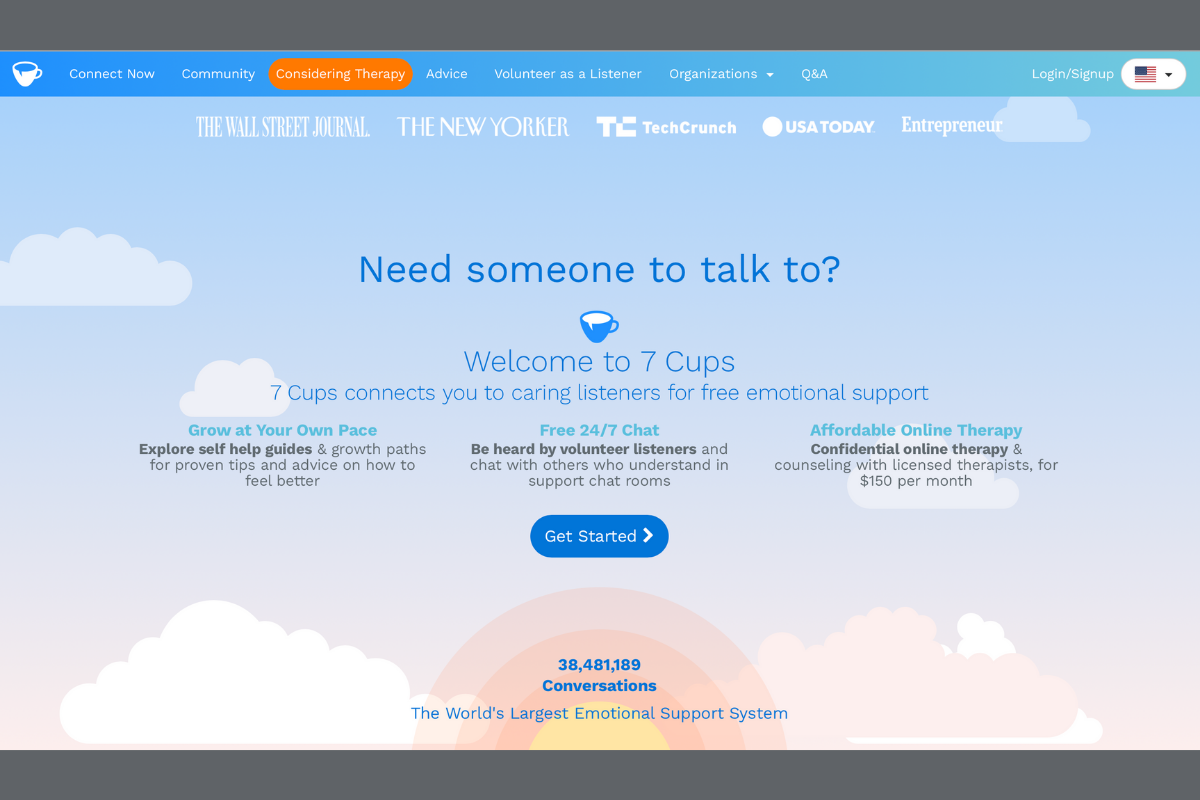 7 Cups is an on-demand emotional health service and online therapy provider
Our bridging technology anonymously & securely connects real people to real listeners in one-on-one chat.
Anyone who wants to talk about whatever is on their mind can quickly reach out to a trained, compassionate listener through our network. We have hundreds of listeners who come from all walks of life and have diverse experiences.
People connect with listeners on 7 Cups for all kinds of reasons, from big existential thoughts to small, day-to-day things that we all experience. Unlike talking to family or friends, a 7 Cups listener doesn't judge or try to solve problems and say what to do. Our listeners just listen. They understand. They give you the space you need to help you clear your head.
Want a little extra help? You can get ongoing support and guidance from a licensed therapist when you sign up for online therapy.
Our confidential online therapy & counseling is available for those aged 18+ for $150 per month.
6) Therapists in Training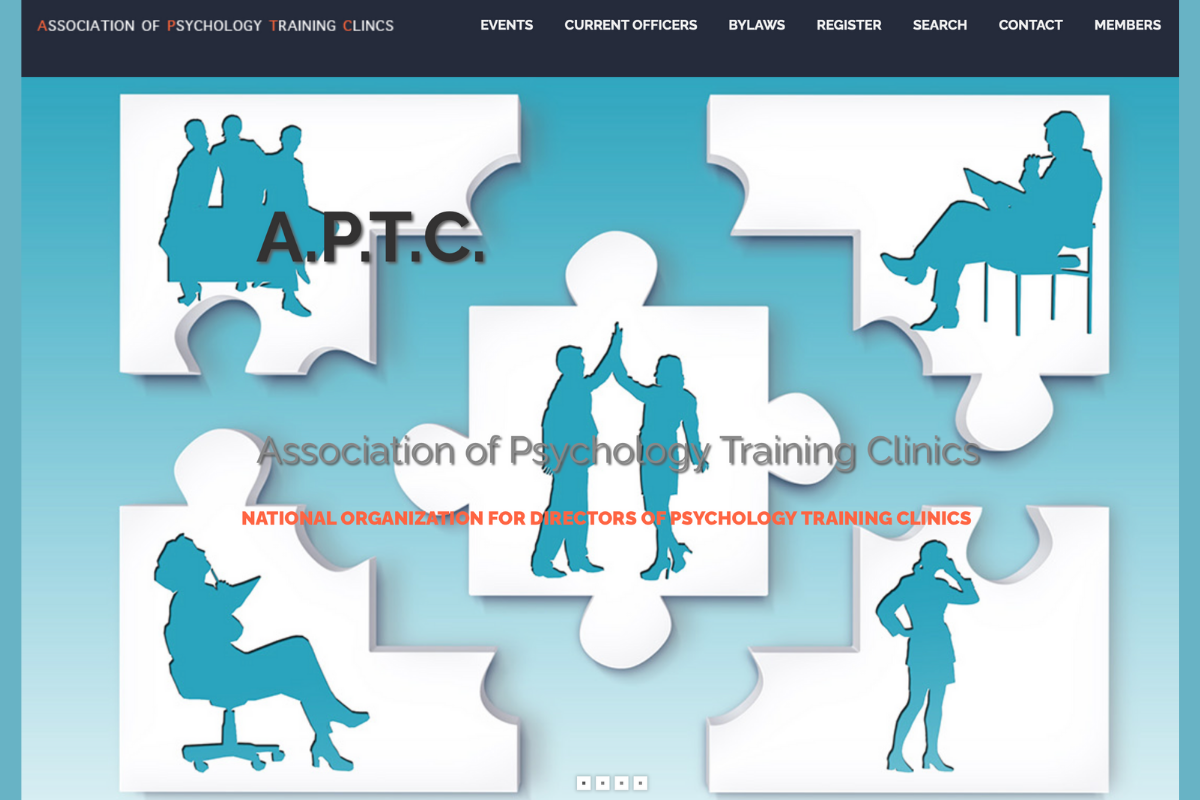 The Association of Psychology Training Clinics (APTC) is the national organization for directors of psychology training clinics. Its members are directors of clinics that are typically associated with pre-doctoral graduate training programs in professional psychology clinical, community, counseling, clinical child, and school psychology at regionally accredited universities. APTC Clinic Directory
7) Inclusive Therapists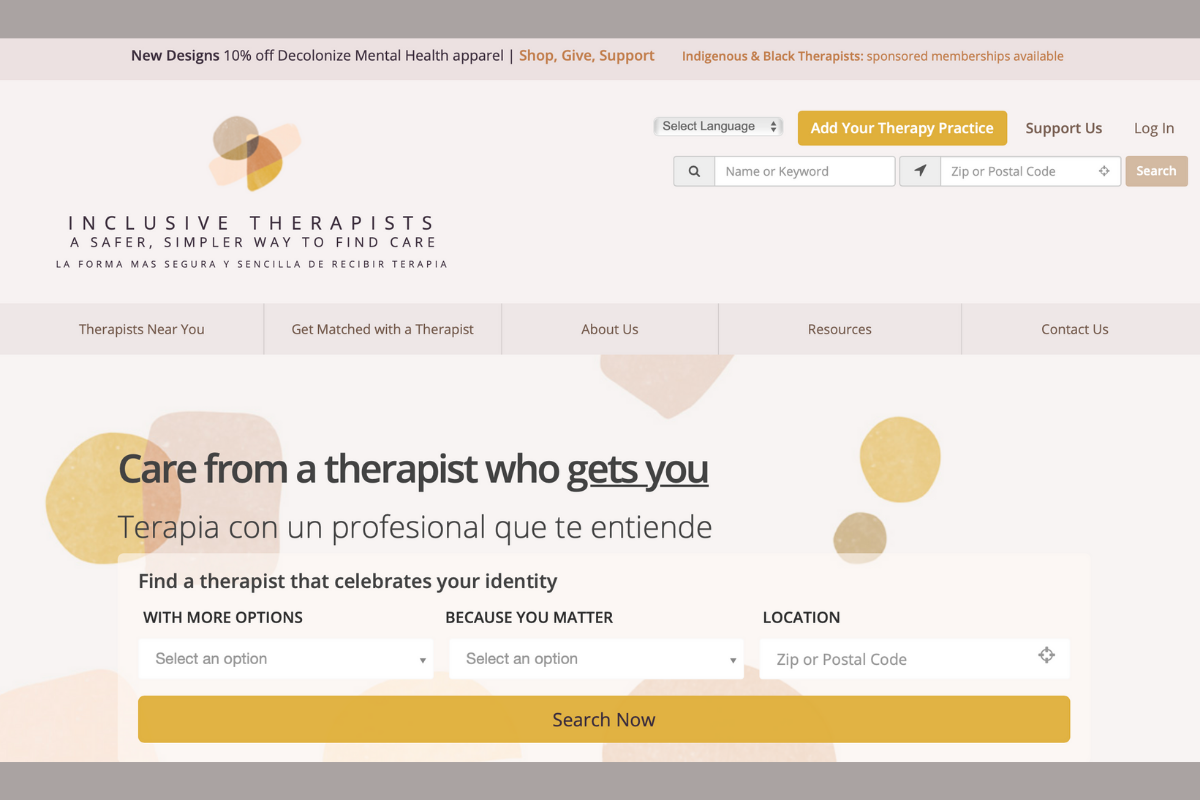 From Inclusive Therapists' website:
Seeking counseling or therapy can be a vulnerable process.
To that, add the challenges that marginalized populations face such as micro-aggressions, prejudice, and language/ financial barriers. Getting the right help can become an overwhelming task.
Finding a therapist should not feel like a gamble
All identities in all bodies deserve equal access to affirming, culturally responsive care.
We aim to make this process simpler and safer.
We connect social justice oriented therapists with people all identities and abilities, in all bodies.
Our directory features mental health professionals and community resources for all intersectional identities, centering the needs of marginalized and underserved communities.
8) Talkspace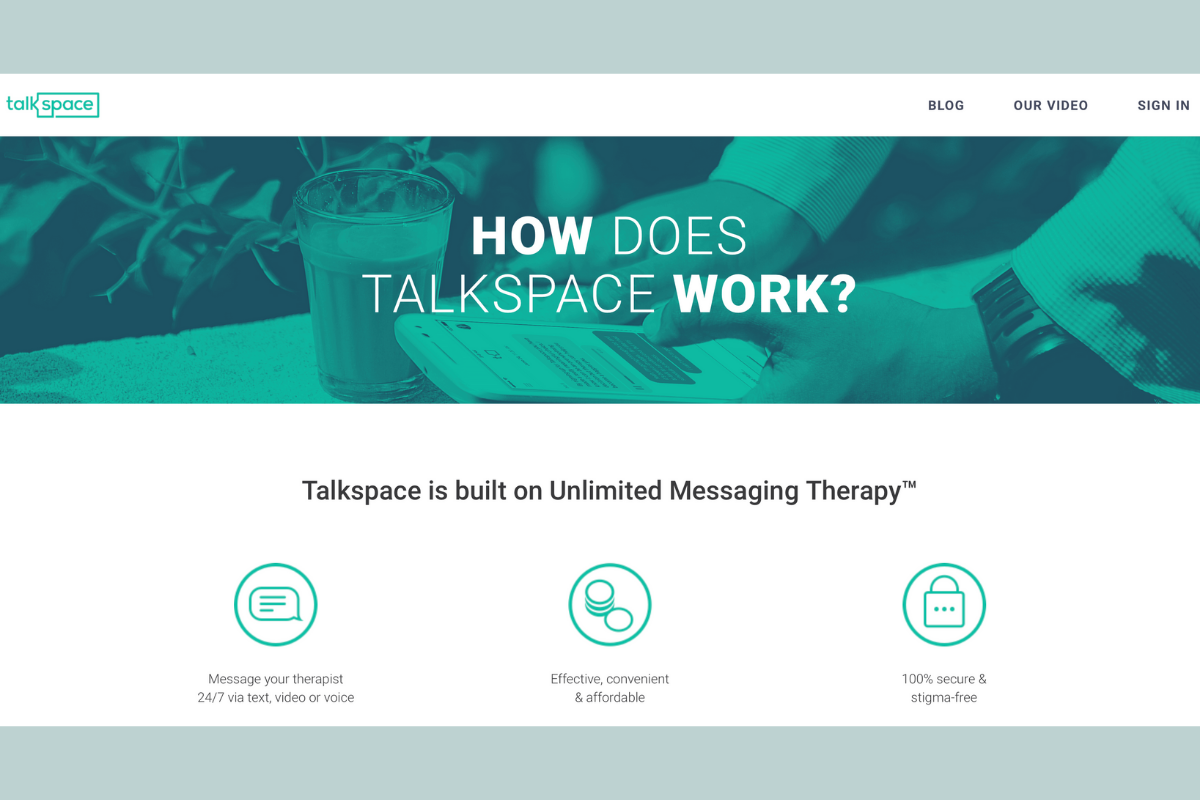 Talkspace makes therapy available and affordable for all. Our mission is to provide more people with convenient access to licensed therapists who can help those in need live a happier and healthier life.
We are not trying to replace in-office therapy. Many people prefer that, which is fine. We created Talkspace so more people could benefit from therapy and overcome their day-to-day challenges in a stigma-free environment.
With Talkspace, you can send a therapist text messages, audio messages, as well as picture and video messages in a private, text-based chat room. Talkspace stands out because of the affordability and convenience it provides.
9) Warmlines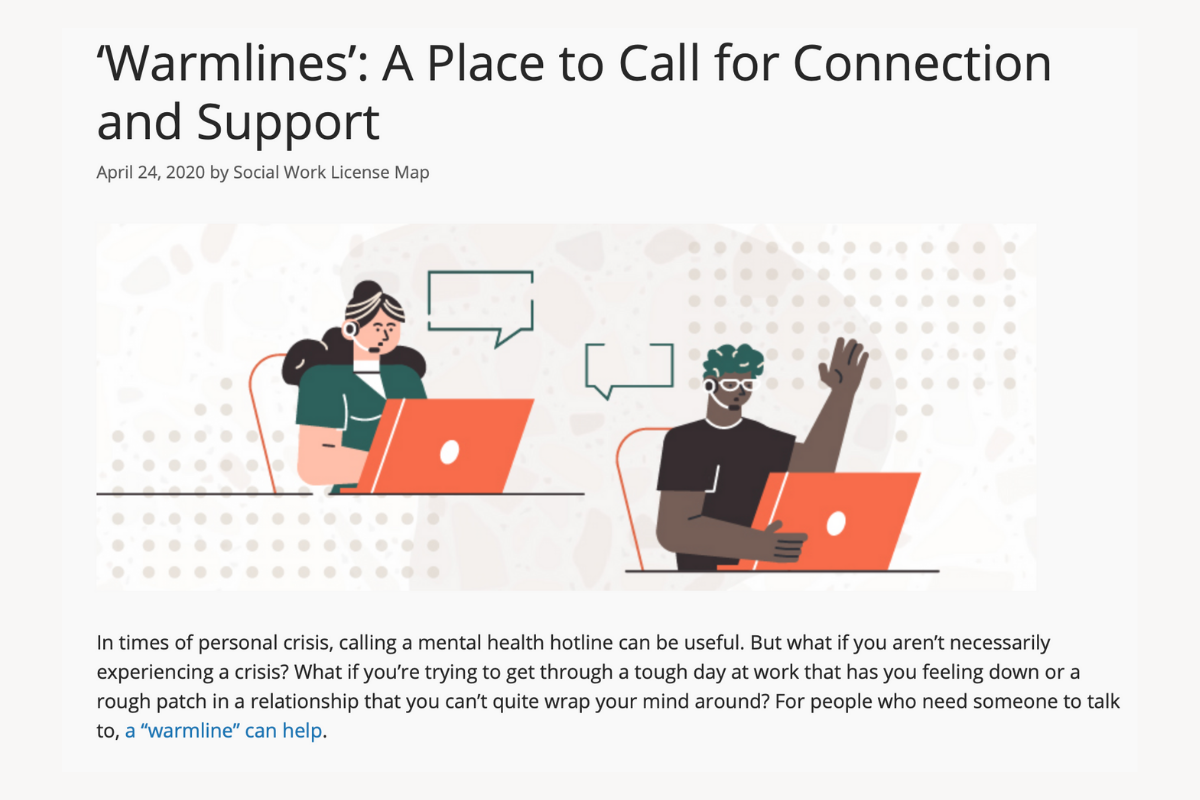 From the article 'Warmlines': A Place to Call for Connection and Support:
Warmlines are similar to hotlines in that they are free, peer-run phone lines that connect callers to clinically supervised and trained mental health advocates, including social workers, who provide emotional support. The difference is that warmlines take an early intervention approach to alleviating struggle, while hotlines are more often used to manage crises that already exist.
For people who struggle to find support, especially during difficult transitions, these phone lines allow them to open up about their experiences and create meaningful connections with the person on the other end.
NAMI National Warmline Directory
10) SAMHSA's National Helpline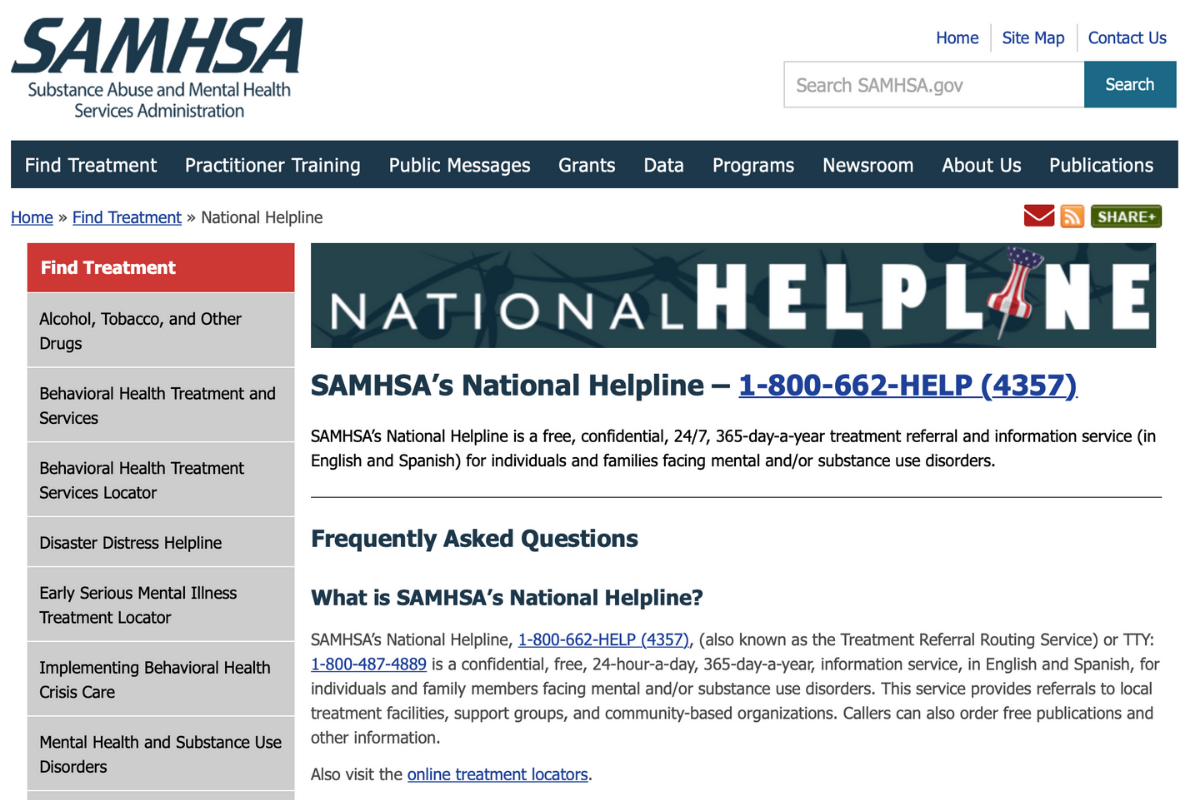 SAMHSA's National Helpline, 1-800-662-HELP (4357), (also known as the Treatment Referral Routing Service) or TTY: 1-800-487-4889 is a confidential, free, 24-hour-a-day, 365-day-a-year, information service, in English and Spanish, for individuals and family members facing mental and/or substance use disorders. This service provides referrals to local treatment facilities, support groups, and community-based organizations. Callers can also order free publications and other information.
---